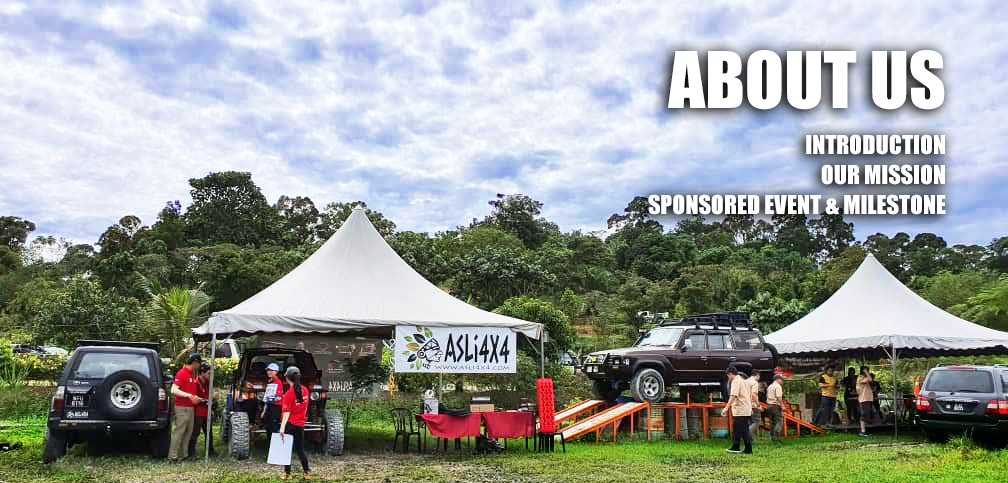 T MAX DISCOVERY was established in 2007 and is strategically located in the industrial area of Taman Shamelin Perkasa in Kuala Lumpur, providing convenient accessibility from various parts of the city. Our facility is a four-floor shop lot comprising office spaces, a maintenance workshop, a product display showroom, and a warehouse.
As one of the leading wholesalers of off-road equipment in Malaysia, we have been dedicated to serving the automotive industry by offering high-quality off-road equipment since our inception. Our extensive product portfolio consists of renowned brands sourced directly from Australia, China, and Taiwan, ensuring superior quality and reliability. Our business operations span across Malaysia, covering both the Peninsula and the eastern regions of Sabah and Sarawak.
In addition to our commitment to providing top-notch products, we take pride in our affiliation with the 4x4 Adventure Club Kuala Lumpur (ACKL), further establishing our credibility as a primary distributor of off-road accessories and parts. Our primary goal is to cultivate a solid reputation for trustworthiness and unwavering commitment to customer satisfaction.
Our Mission
At T MAX DISCOVERY, our mission is to provide unparalleled value and exceptional quality when it comes to 4x4 off-road gears. We are committed to delivering the utmost satisfaction to our customers by offering top-notch products and services within the region. With each product we introduce, we ensure its superior quality, and we always maintain a readily available stock of spare parts to address any unforeseen circumstances, all at a reasonable price.
We strive to deliver an unparalleled user experience and post-sales service. As a distributor-focused business, we maintain close partnerships with local workshops, actively gathering feedback to enhance our products' quality. We collaborate closely with our manufacturers and suppliers, promptly addressing and rectifying any issues to ensure an optimal customer experience.
EVENTS PARTICIPATED, SPONSORED & COMPANY MILESTONE

(Last Updated - Jun 2023)
2010 June – Penang 4X4 Jamboree 2010
2010 November – Adventure Club Kuala Lumpur (ACKL) Malaysia 4X4 Jamboree 2010
2011 June – Polis Diraja Malaysia (PDRM) 4x4 Hulu Selangor Bukit Beruntung Fun & Charity 4x4 Challenge
2012 May – Adventure Club Kuala Lumpur (ACKL) Malaysia 4X4 Charity Dinner 2012
2012 September – Adventure Club Kuala Lumpur (ACKL) Malaysia 4X4 Jamboree 2012
2013 June – Adventure Club Kuala Lumpur (ACKL) Charity Dinner
2013 October – Buaya Puchong Annual Outdoor 4x4 Adventure
2013 November – Kelab 4x4 Serdang Anniversary Dinner
2014 June – Rainforest Challenge Malaysia Trophy 2014 Negeri Sembilan
2014 August – Buaya Puchong Annual Outdoor 4X4 Adventure Kalumpang
2015 May – Johor Offroad Charity Challenge 2015
2016 March – Kelab 4x4 Raub Pahang Event
2016 December – Collaborating Sponsor with Bernam Auto Road Trip to Thailand
2017 November – Sponsor for Rainforest Challenge Global Series 2017 Philippines Team.
2017 December – Triton Tuner Club Malaysia (TTCM) Offroader Mud Party & Family Day 2017.
2018 Jun – Web store, Lazada, Shopee Online Store Sucessfully Setup
2018 August – Triton Tuner Club Malaysia (TTCM) host for 7th Mitsubishi Triton Jamboree Malaysia & 1st Mitsubishi Owners Gathering.
2018 November – Adventure Club Kuala Lumpur (ACKL) Malaysia 4x4 Jamboree 2018
2018 December – Sponsor for Team 117 Competitor (Champion in the end of competition) equipment to participate in Rainforest Challenge 2018 Grand Final.
2018 December – AsLi4x4™ Trademarked
2019 September – Sponsor for Event GK International 4x4 Challenge 2019, & Exhibition booth setup on site.
2019 October – Parts Sponsor & Support for Team M119 Sabah Team's for Participating Borneo Safari 2019
2019 November – Sponsor for Event ACKL 4x4 Jamboree 2019 & Exhibition booth setup on site.
2019 November – Kelab 4x4 Serdang 12th Years Anniversary Dinner
2021 Jan – Participated Malaysia first indoor pickup truck bazaar at gateway@KLIA2
2022 March – Parts Sponsor & Support for Team M119 Sabah Team's for Participating KGR International Offroad Challenge 2022
2023 January – AsLi4x4 (SABAH) Established, Sabah Sole Distributor
2023 June – Participated Outdoor Expo 2023